Our Other Stores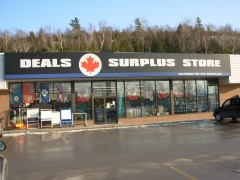 Deals Inc.
959 10th Street West
Owen Sound, Ontario, N4K 5S2
Phone(519)376-9148
Fax(519)376-0771
Hours of Operation:
Mon - Wed 9am-8pm, Thu-Fri 9am-9pm, Sat 9am-6pm, Sun 10am-4pm
Surplus items of every kind. Camping, Outdoors, Household, Hardware, Tools, Army, Clothing, Car Stereos, Phones, Auto, Lawn and Garden. New items weekly all at surplus pricing.
---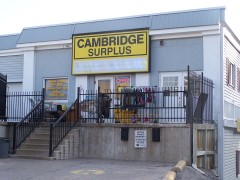 Cambridge Surplus
336 Eagle Street N. (Near King St.)
Preston, Ontario
Phone (519)653-2946
Hours of operation:
Mon - Fri 9am - 8pm, Sat 9am - 6pm, Sun 10am-5pm
Approximately 14000 square feet of surplus deals!

---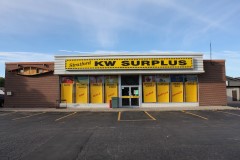 Stratford KW Surplus
447 Huron Street (between beer store and giant tiger)
Stratford, Ontario, N5A 5T8
Phone (519)271-7949
Hours of Operation:
Mon - Sat 9 to 6, Sun 10 to 5
Approximately 8000 square feet of surplus deals!

---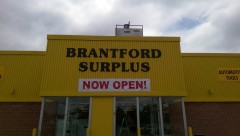 Brantford Surplus
655 Colborne St.
Brantford, Ontario, N3S 3M8
Phone (519) 304-4655
Hours of operation: Mon-Fri 9am-9pm, Sat 9am-6pm, Sun 10am-5pm

---